Item Name

efoil Surfborad

Top Speed

55km/h

Application

Water Sports

Battery Charging Time

7hours

Brand

Customized

Patent design

full carbon foil

Length

210cm

Running Time

60 minutes or 90 minutes

Battery

Rechargeable Lithium Battery with IP67

Motor

High efficiency BLDC, 3000W

Accessories

emote control, 2 chargers faster charger, Normal charger, leash, battery, propeller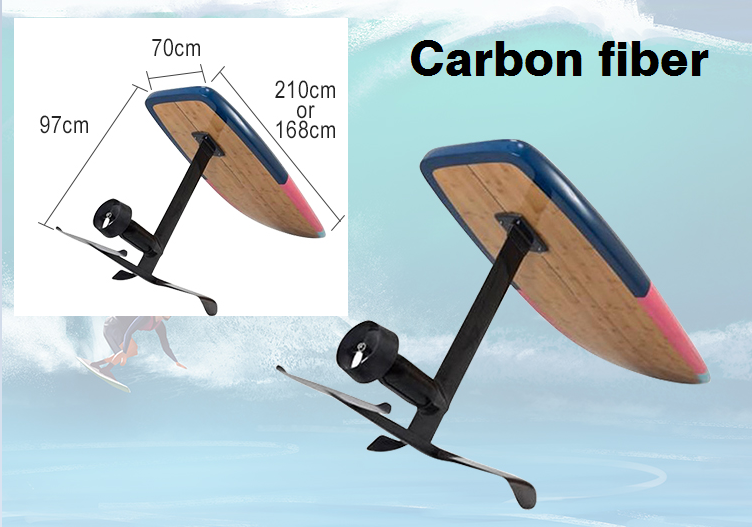 Do you like being on the water, surfing, sailing, kayaking, or windsurfing? If you do, there is a new and faster way of getting around, it's called theHydrofoil surfboard / electric foil surfboard.

Amazingly fast, the electric motor of the hydrofoil lifts the surfboard out of the water and lets you cruise with nearly no drag. It's efficient, as you seemingly glide above the waves at impressive speeds.
Boards Basic Specification:
Engine Controller.
The engine is now with the perfect accelerations, decelerations and speed outlets so you get the most stability out of your ride.

Silent Electric Engine.
Lots of energy in a compact space allows you to travel swiftly through the water without the irritant noise created by gas engines.

Waterproof Hatch.
All the batteries, engine controller, chips and the wires are stored in the waterproof hatch. It's easily opened to replace the battery.

Control Performance.
The engine is commanded by the controller in your hand. The power will automatically shut off by simply releasing the lever, if submerged in water.


Specifications
1. Average speed:30-35km/hour
2. Top speed : 40-56 km/hour
3. Battery charge time : 6 hours
Together with a fast charger would be 2 hours. 2 chargers be included.
4. Battery lifetime : 60 minutes or 90 minutes. (can choose one you like. )
5. Powerful lithium battery ( 27 Ah ) : rechargeable, Or 35A more expensive.
with double anti-explosion systems
6. High efficiency BLDC electric motor: 3000W, 48V27Ah
7. Rotation rate : 5000 rpm
8. Flying Foil : Full carbon fiber ( patent on design )
9. Wireless waterproof controller: R/F type, remote contral
10. Safety control system: magnetic blow-out switch
11. Board size: 210 x 70 cm (big size); 170 x 70 cm (small size) (choose one dimension you like. )
12: Weight : 34kg (big board unit); 29kg (small board unit)